About
About Carluke
Carluke has a population count of around 18,000. It is largely a commuting town for central belt areas of employment. It is approximately 5 miles from the county town of Lanark and is in the county of South Lanarkshire. It borders the Clyde Valley which, historically, was famous for its fruit growing and home in Carluke to Scott's Jam Works. At one time there were two brick making factories and local coal mines and still has an established firm of award winning bacon curers. The town has 6 Primary Schools, 1 large High School, several churches including Carluke Gospel Hall.
There are several famous son's of Carluke whose life and work are of importance. Two of them are: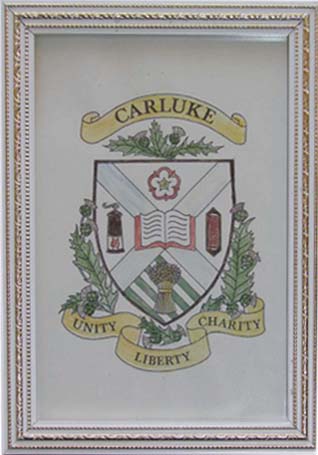 JAMES SCOTT - a founding member of the Jam Works and Chocolate Factory. He was instrumental in supporting the growth of the Gospel Hall in Carluke by not only being an active member in its early days, almost 100 years ago, but by also constructing the first building the congregation met in – known locally at the time as "The Tin Hut" – see photographs under the heading "MEMORY LANE".
MAJOR GENERAL WILLIAM ROY - a cartographer who was responsible for the development of the Ordinance Survey Map. We are all indebted to him for showing us the way to places through his maps.
We ought to feel indebted to The Lord Jesus Christ for showing us the way to heaven. He said "I am the way, the Truth and the life".
CARLUKE has an interesting coat-of-arms which not only has 3 words in its motto – UNITY, LIBERTY and CHARITY [all of which have a bearing on Christian values] but also has various emblems which have lessons behind them. For example:
It has the Scottish saltire on a shield. At the point where the blue stripes cross there is an open Bible and in the 4 spaces between the stripes are items which all convey a Christian message –
A FLOWER which can depict the fruitfulness and pleasant fragrance that should be evident in our lives as it was in the life of Christ.
A MINERS LAMP which can depict how our minds can be illuminated and our path in life aided by reading and adhering to the precepts found in the the Bible.
A SHUTTLE COCK which can depict the brevity of life and the importance of getting right with God while we have time.
A SHEAF IN A FIELD which can depict the blessings we have in the provision that God makes for us and in particular for those who are true Christians.