What's On
What to Expect if come along?
WHAT HAPPENS WHEN I COME THROUGH THE DOOR?
Normally there will be somebody in attendance at the door who will welcome you and give you a hymn book [if it is a service that is programmed] and offer you a Bible to borrow if you have not brought one of your own. If you wish, the door steward would be happy to suggest where you could sit [if you do not own a bible of your own and would like one we will happily give you one free of charge].
WHAT IS EXPECTED OF ME?
We do not insist on any particular mode of attire. Our members dress in a way that reflects the fact that they meet in God's presence and as such want to show respect and reverence to Him.
Formal services will have somebody addressing the audience from a raised platform. Generally hymns are sung using a hymn book distributed to people on arrival.
All that is expected from the congregation is to listen respectfully and think about what has been said.
THE BREAKING OF BREAD MEETING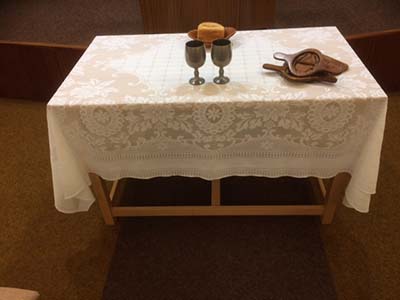 This is held every Sunday morning and is when our members [Christians] remember the Lord Jesus Christ and his death. Sometimes this ordinance is called "Communion" or "The Lord's Supper". It is regarded as a most precious time together – we sing hymns and male members will worship audibly in prayer and read passages from the Bible. This is the only occasion during a service when a collection is taken and our members would contribute something as the Lord has blessed them. The money is used to maintain the building, to carry out evangelistic activities in the town, support disaster relief and support missionaries and evangelists known to us throughout the world.
THE AFTERNOON SERVICE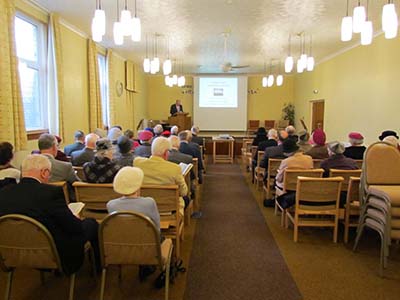 This is an occasion when a visiting speaker will read a passage from the Bible and explain its content to the audience. The message may of relevance to Christians and also to those who may not yet be Christians. Usually when we sing from our hymn book, we have the help of an organist.
THE PRAYER AND BIBLE STUDY MEETING
This is when we meet to pray collectively for the needs of members and friends, our town and country and for those in authority that they may have wisdom and care. We pray for people in need throughout the world and we pray for help and blessing for those engaged in overseas missionary work and for those working in our own country to spread the Gospel and teach Christians. By Bible Study we mean that a particular portion of the scriptures is read and discussed by our members.
THE COFFEE BREAK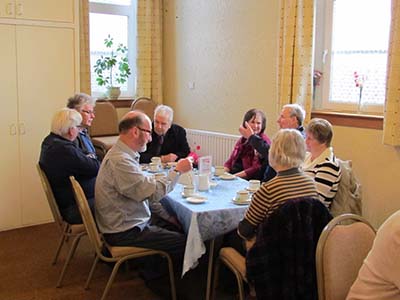 This only runs during certain months and is an informal occasion for companionship and mutual support and chat over a cup of tea / coffee and a cake. This is a popular occasion with many townspeople and is free of charge.